Mouth Guards Near You
There are a lot of instances where our bodies may need some additional protection against external or internal forces. This can come in many forms. Sunscreen, sports padding, gloves and scarves, and mouth guards are just a few examples.
Concerning mouth guards more specifically, these devices are wonderful at preserving the structure and appearance of your smile. If you're looking to acquire mouth guards in Airdrie, our local dental practice has got you covered. Get in touch with us today to get started.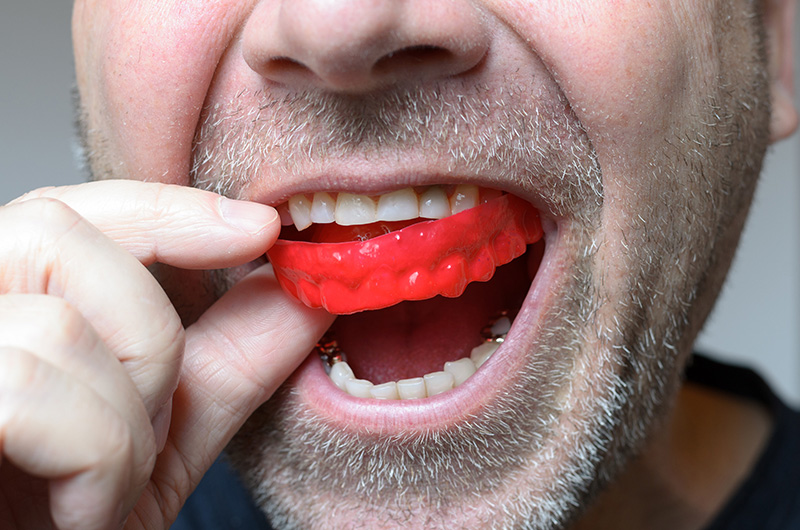 What is a Mouth Guard?
A mouth guard can be classified as a means of preventative dentistry. This device can either be custom-made by a dentist or bought over the counter at a drugstore. It protects your teeth, gums, and even your lips and tongue by acting as a cushion and absorbing any impacts you experience.
No matter your age, a mouth guard can be a wonderful thing for multiple reasons. Here are some of the most common reasons why your dentist may recommend acquiring a mouth guard near you:
To eliminate bruxism. Bruxism refers to the clenching and grinding of your teeth, particularly at night.
You play sports, whether for leisure or competitively, especially high-contact sports like basketball and hockey.
To provide support to your jaw.
If you're wearing braces, a mouth guard can help stop your braces and wires from snapping or accidentally scratching your gums.
To help you heal after oral surgery. In some cases, your dentist may advise that you wear a mouth guard to preserve the dental work that's been done and speed up your recovery time.
For more information about mouth guards in Airdrie, reach out to your general dentist. They will be able to answer any queries you have about this mode of treatment.
Types of Mouth Guards Available
Three main types of mouth guards are available for you to use:
Customized Mouth Guards 
Visiting a dentist to receive this device is arguably the best way to go. Impressions will be made out of your mouth and sent off to a dental lab. This information helps create a device that fits seamlessly over your teeth. It takes approximately two to three weeks for your mouth guard to be designed. You'll have to come back for a second appointment to receive it. Your dentist will also ensure that it fits you as it's meant to before you'll be free to go.
Boil-and-Bite Mouth Guards 
Having a customized mouth guard is not always a feasible option, especially because it can be a bit costly. Boil-and-bite guards, while they may not fit you quite as snuggly, are still effective. You begin by softening the material in hot water. Then, you bite into the device, making an impression of your teeth. After, run the mouth guard under cool water to help solidify its shape.
Stock Mouth Guards 
This mouth guard is based upon the one-size-fits-all rule. They come ready to wear. Stock devices don't provide you with a great fit and can feel uncomfortable at times, but they are also more affordable.
In the end, it's up to you and your needs as to which type of mouth guard you prefer.
Should you have any questions or concerns about receiving mouth guards near you, contact us here at Airdrie Dental Choice. Call, pop over to our website, or come in and visit us in person to schedule a consultation today!