Teeth Whitening Near You
Showing off a brighter smile is certainly all the rage these days. Everyone wants to look their best, just like their favorite celebrities. As a form of cosmetic dentistry, receiving teeth whitening, also called teeth bleaching, is a great way to do just that.
Here at our local dental clinic, we offer convenient teeth whitening near you. Our team members are ready and willing to help you achieve the smile of your dreams. Give us a call today!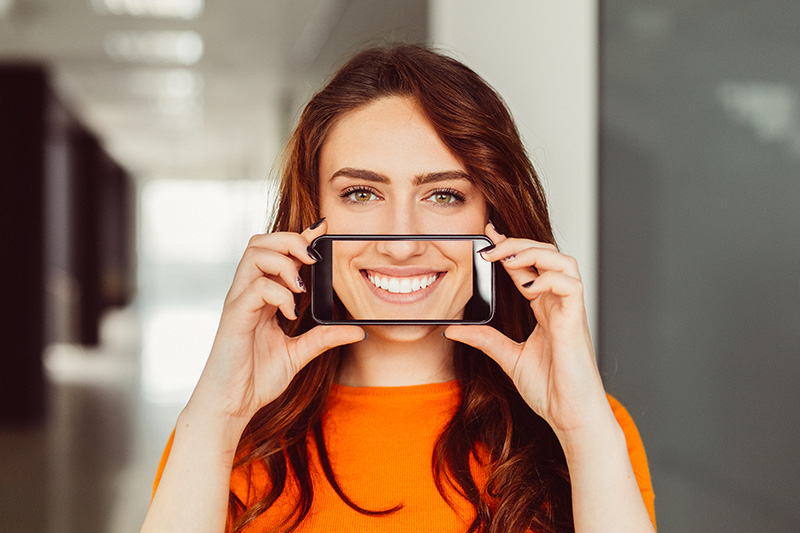 In-Office Teeth Whitening
In-office whitening entails booking an appointment with your dentist. This treatment only requires a single visit and can be done in 30 to 60 minutes.
First, your dentist will examine your teeth and gums; they might want to take some x-rays, too, to develop a more in-depth picture of your oral health. Your mouth will be cleaned before the bleaching agent is applied. Hydrogen carbamide and hydrogen peroxide are the most commonly used substances. They can easily penetrate your enamel and remove severe stains.
The bleach will sit on your teeth for a period of time before being wiped off and reapplied. This process is continued until your smile resembles the shade of white that you prefer.
Teeth whitening is by no means a painful process but, if you experience any sensitivity, let your dentist know so they can help keep you comfortable.
At-Home Teeth Whitening
Dentists typically recommend receiving in-office whitening near you because it is effective, safe, and lasts longer; with that said, it is a costly treatment. Fortunately, there are alternatives to this that are effective as well, including:
Whitening gels, strips, toothpaste, and mouthwash.
Take-home kits. These kits can be obtained at a dental clinic and contain a predetermined amount of bleach and plastic trays.
Eliminating or consuming less food and drink that stain your teeth. Strawberries, soy sauce, wine, and beer are some examples.
Not smoking.
Regardless of what type of teeth whitening method you choose, it's important to remember that it does not replace brushing and flossing at least twice a day, nor is it a substitute for dental checkups and cleanings. Furthermore, the effects of in-office and at-home teeth whitening are not permanent. Eventually, you'll need to repeat this process.
Are you seeking reliable treatment for teeth whitening in Airdrie? Here at Airdrie Choice Dental, we've got you covered! Our dentists and dental hygienists look forward to helping your fall in love with your smile all over again. Head to our website to set up a consultation when it works with your schedule.
We can't wait to work with you!